October 2013 Newsletter
| | |
| --- | --- |
| NEW Product Feature | October 2013 |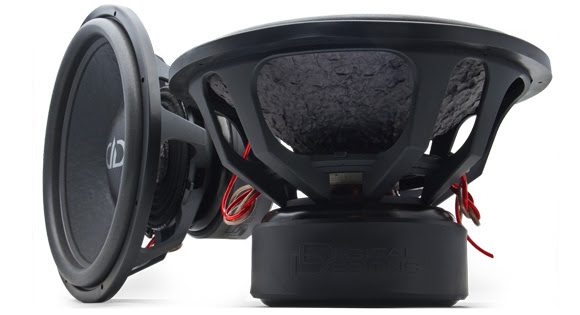 Digital Designs is happy to announce the re-introduction of the original Beast, the 9900 Series woofers. The biggest and baddest is back, and bigger and badder than ever. The low frequency explosion in music, across all genres, has led to the re-development of the 9900 Series. This 9900 series is designed to provide long term power handling, with accuracy, and ultra-long excursion.
The new 9900 motor is a beast, with 3 inches of magnet cross section area, a diameter over 10 inches and weighing in at 70 pounds. The traditionally tight DD magnet gap drives long throw flat aluminum voice coils to a peak excursion in excess of 3 inches, while keeping enough turns in the magnetic gap to maintain power and control.
The Beauty of the Beast
The 4" 9900 coils receive the same innovations developed for the Z Series coils, 5 layer former construction with double layer aluminum sidewalls, perimeter vents, double slit formers to reduce eddy currents and twice baked and coated for the highest temperature resistance possible.
This high surface area coil (100% greater than a 9500 voice coil) is immersed in the extensively CnC machined, DD Free Flow Cooling System motor design - perimeter basket vents - vertical top plate vents - horizontal and vertical pole vents - vertical back plate vents - the harder the speaker is driven, the more air is pumped around and through the voice coil.
The magnet gap uses a symmetric flux topology with a pole piece that is flush with the top plate, and undercut below the magnetic gap. Fixed to the top of the pole piece is a black anodized aluminum ring that does double duty as Faraday Ring and high efficiency heat sink.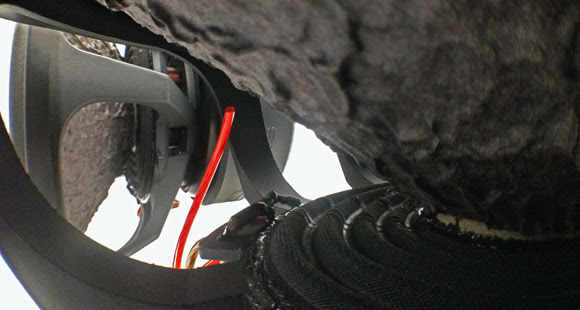 The technology tour de force focus continues with the rest of the moving parts. The composite, multi-spider assembly is comprised of 5 layers consisting of 3 different materials heat formed into a linear, long wearing suspension designed to give years of service. The X-11 cone is made from the strongest synthetic pulp known to man and is non-pressed to expand the cross section area for increased rigidity. The 2 layer EROM surround maximizes cone area and travel while reducing moving mass.
The 9900 is the go to subwoofer for the demanding bassaholic with a profound interest in physics. Entertaining minds will revel in the endless system design possibilities deliverable with these precision low frequency devices.
For full specs and details on the 9900 Series click here to visit our website.
NEW Product Feature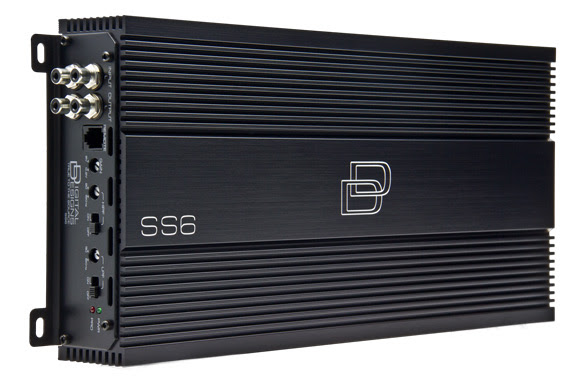 The SS6 is our newest discrete circuit full range class D amp. This amp addresses customer requests for a higher powered amp capable of driving midrange and tweeter arrays while consuming less current and taking up less space.
Sound Quality Rivaling Class AB amps
The SS6 cranks out over 800 Watts per channel at 2 ohm stereo, and over 1600 Watts into a 4ohm mono load with less than 1% THD+N. All this power fits into an SS chassis measuring only 6.875" wide by 14.125 inches long. By using discrete class D circuitry instead of a chipset were able to get ultra-low distortion AND high power, contrary to the majority of small chassis class D amps on the market today. Not only does the sound quality of the SS amps trump other class D designs, they rival high quality class AB designs.
Take the SS amp challenge, compare the sound of an SS amp to similar power class AB amps and you will experience the future of high efficiency AND high fidelity.
Versatility
Like all DD amps, the circuit boards are conformal coated for use in high humidity and harsh mobile and marine applications.
SS amps feature individually selectable high pass and low pass crossovers with frequency bands from 50Hz-5kHz, making them adaptable to virtually any system configuration. We used heavy duty set screw blocks for speaker and power terminals and Tiffany RCA jacks to ensure connections are solid and durable.
SS amps are smaller, more powerful, generate less heat, and just sound better than other class D amps on the market. This makes them the ideal choice for today's space cramped interiors.
For full specs and details on the DD SS6 Aplifier click here to visit our website.
TECH TALK
Multi-Spider Suspensions
For the next installment of the DD Innovations Series we're going to go over those funny looking wavy things under the cone, otherwise known as spiders. Spiders are one of the most crucial components in high performance loudspeakers. The spider keeps the cone moving straight up and down, keeps the coil from moving side to side in the magnetic gap (the death dance for a speaker), and provides restoring force to the cone movements by acting as a spring.
We understand our woofers are used in a multitude of applications so that's why we offer a multitude of different suspensions. Most companies have one basic spider that they simply layer to make their suspension stiffer. We, on the other hand, utilize three different types of spiders that have been engineered to work in different combinations giving us the ability to tailor the suspension to the specific sub. We utilize two thicknesses of cloth that are woven with an exclusive blend of synthetic fibers for a more linear, durable, and tear resistant material.
DD suspensions are known for their long lasting ability. We have 9500 woofers sold in the 90s that are still serving their owners well. Our spiders rely more on multiple layers of material rather than heavy coatings of resin. Resin wears off the cloth during movement, breaking away until the cloth becomes the primary restoring force. It is for this reason we use multiple layers of cloth with less resin, creating a more stable platform for the suspension.
A new suspension innovation is our composite spider system that thermo-molds up to 25mm of foam between two of our cloth spiders. The composite spider design allows us to design a set level of stiffness that changes very little over the course of time, unlike the standard resin coated cloth spiders most manufacturers use.

Our spiders cost 10 times more than conventional spiders, and we use up to nine spiders on some models. In fact, we spend more on the spiders than some companies spend building their entire speaker. But hey, we're making YOUR speakers; it's worth it!
To sweeten the deal even more, DD gives you the ability to customize your suspension per your specific application. Speakers require a set level of stiffness to control the level of continuous power being delivered. If the stiffness is too low for the power, the speaker will lose control and flop around like a wounded bird, causing your sound quality to suffer. If the suspension is too stiff, the low frequency response will be compromised, and once again sound quality will suffer. Some competition cars need a really stiff suspension that will provide a higher resonant frequency to match the car's resonant frequency, or SPL will suffer. Today's applications require customization to extract the best performance, one suspension type doesn't match all the applications. Depending on the series of woofer we offer up to 4 suspensions options: Soft, Standard, X-Stiff, and SPL. For more information on custom suspension options contact your DD sales rep.

ddaudiotv

Visit our youtube channel to watch our newest product spotlight video featuring our M Series Amplifiers. Don't forget to subscribe while you're there, and be the first to know when we upload new videos!
INSTALL OF
THE MONTH

This year has been flying by and with the weather about to do a drastic change on us all, we thought we'd change it up as well and show you guys something a little different. This months install was done by our friends at Sound Decision in Montgomery, Illinois. The owner of this beast is Josh Van Wagner. The big rig was a complete ground up restoration. Just check out the pictures, and you can see that no expense was spared. The interior work is top notch right down to the smallest detail. Josh and the crew at Sound Decision did an amazing job of not only making sure the end product looked great, but sounded great as well. Since completing the install, Josh has entered and placed in several shows!

Equipment List:
6 - DD2510's
3 - DDM1c's
2 - DDSS4's
6pr - DDCXS6.5's

DEALER SPOTLIGHT

Dealer: Sound Decision
Location: Montgomery, IL, USA

This year has been a very busy one here at Digital Designs. Along with the addition of new products to our line we have had the distinct pleasure of welcoming many new dealers to our ever expanding family. One of those dealers is Sound Decision located in Montgomery, Illinois. The owner Mike and crew have all been in the aftermarket 12 volt business in one form, or another for several years.

When they were looking to expand their line, they checked out several different companies before deciding to go with DD Audio. Mike tells us that what drew him to the brand was the reputation for quality and performance. After having time to work with the product Mike said, "The attention to detail is superior to those massed produced products from overseas. Hands down they're the best subs on the market today." Sound Decision's shop manager Jim said, "From the moment we brought the line into our store the customer response has been overwhelming." The guys recently completed one of their largest projects to date, and from the start they knew they were going to go with DD Audio for the install. For a look at their handy work get over to our install of the month section, and check it out.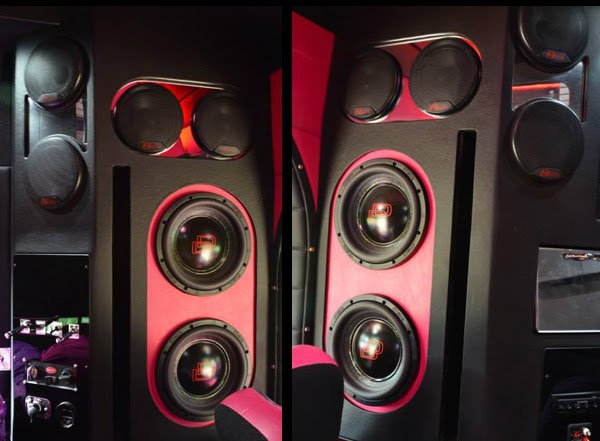 Find a local dealer or start shopping at DD4Life.com.
ddaudio.com |
Like us |
Follow us |

Watch us